A Night On The Town with Roger Chapman & The Shortlist
by Andy Jago 1999

What a fabulous year 1998 proved to be for a Roger Chapman nut like me. Two excellent CD's released, a live show screened on satellite television, and two trips to see the Shortlist perform. It would have been three if the gig at Fiddlers in Bristol wasn't cancelled at the last minute, but the real highlight was that I actually met the 'Man' himself on both occasions.

The first time was on June 9th when six of us went along to The Brook at Southampton. My wife, Karen, and I travelled with our daughter, Kerry, and her boyfriend, Matt, from our Paignton home and met our son, Gareth, and his girlfriend, Jenny, at his Southampton flat. Before venturing into the city for a few beers and a meal the kids presented me with a T-shirt emblazoned with a photo of Chappo with the inscription 'I Love Rog - Where's your tambourines mate'. Unbeknown to me at the time this was to play a crucial role in the evening ahead.

As we stepped out from our taxi at The Brook at 8.30pm, another taxi pulled up behind, and who should get out but Chappo himself. He saw the shirt, smiled and spoke and agreed to have his photo taken with me before walking to the stage door. I was ecstatic. All the years I have followed him this was the first time I had actually met him and shook hands.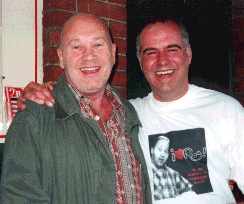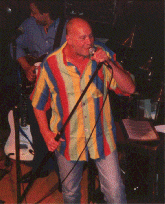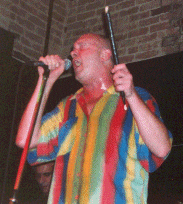 Roger (& Andy) - The Brook, Southampton, 6th June 1998

The concert again was superb, reminiscent in format to the live gig at the Bonn Easter Blues Festival that Rockpalast screened. Afterwards Kerry asked me for the shirt so she could get it autographed. No chance, I thought. As she disappeared I chatted with Peter Hall, another Chappo fanatical from the Isle of Wight who I had met at the same venue the previous year. After twenty minutes Kerry returned with the shirt signed, told me she and Gareth had been upstairs talking to Chappo, Twiggy and Helen Hardy, and said he was willing to have a chat. Peter, his friend Chris Turvey, and I charged up the stairs where for the next twenty minutes or so we spoke to the three of them.

I introduced myself by telling him I had been a big fan of his since In My Own Time back in 1971, he looked at me as he drank his red wine, smiled, and quipped 'You sad bastard'. We both laughed, the ice was broken, and we continued to chat about the times I had seen him with Family and the 'Walkers, meeting Rob Townsend of The Blues Band and talking with Frank Worthington about his days with Chappo during his Leicester City days. Finally, I thanked him for all the pleasure he had given me through his music and live performances over many years and especially thanked him for returning to England to give us all the opportunity to see him perform again. Those around applauded, Chappo smiled mischievously, his eyes warm, he appreciated the remark. I shook his hand, wished him well and departed.

As we strolled into the city night I was on such a high. The whole experience had been a tremendous thrill and I savoured every moment as the six of us went into the city where we found a club and drank and danced until the early hours.

The second occasion was the week before Christmas when Peter contacted me and informed he was promoting the gig at the Ryde Theatre on December 17th and invited me along. I could not believe it, this was an opportunity not to be missed.

Peter owns the Old Fort Bistro at Seaview and has been a dedicated follower of Chappo since first seeing Family at the Isle of Wight Festival in August 1970. He actually met Roger and the band at Leicester in the autumn where he ferried the band from the hotel to the Half Time Orange where the band were playing, and later did the same for the South Wales gigs. He phoned me immediately and could barely contain his excitement. How I envied him - this is two 44 year olds we're talking about here.

Afterwards he found the courage and the finance to promote the concert at Ryde and I admire him immensely for doing something that the rest of us only dream of, or would possibly only consider if we won the lottery.

I travelled alone in the car from home to Portsmouth, listening to my live Chappo and Streetwalkers tapes, and caught the Hovercraft across to Ryde where I arrived at 2.00pm. I checked into the Yelf's Hotel where the band was staying. As I left my room I met Roger Chapman on the stairs, and spoke briefly, he didn't remember me but I didn't expect him too. His room was right opposite mine.

I strolled up Union Street and into Lind Street where the theatre was. It was a Victorian building similar to those you find in most seaside resorts. The stage and hall were upstairs – a nightmare for the roadies despite the lift – and was very spacious with a seated balcony at the back above the bar. An ideal venue for such an event. It was here that I met Peter. He was both excited and nervous. He had had an early start to the day also, travelling to South West London in his nine seater cruiser to pick up the band members from Roger's house and back to Southsea for the 2.00pm ferry crossing. This was no hardship, on the contrary, this was a simple labour of love to him. Ticket sales were good, around the 350 mark and he introduced me to the band's roadies, Ray and Hughie, both of whom made me feel very welcome. In fact, it was Hughie's first time with the band. Ray had been with them six years and over the next few hours he told many a story of the band's experiences on the road and in Germany. They were both great fun to be with.

Peter and I went back to his Bistro where he had phone calls and arrangements for the post concert party to make. It's a nice cosy place with spectacular views overlooking the Solent and the Spithead and I strongly recommend a visit if any Chappo fans are ever on the island for a holiday. There are not many places I can think of where you can hear Chappo's music in the background - and Peter would be delighted to meet and chat to you. He tells me the food is excellent too!

We returned to the theatre at 4.30pm for the sound check and this was an experience of its own. I had mentioned to Peter that I hope Chappo plays 'Slap Bang in the Middle' tonight, and low and behold, when we arrive they are going through that number with a medley of 'Always Gotta Pay in the End' rather than 'Ball of Confusion'. At the end I applauded and cheered from the balcony, much to everyone's amusement. It's strange seeing a sound check like this. Chappo is upfront singing facing the band members, and between riffs they talk and laugh. They are so relaxed and plainly enjoy being with one another. Pat Crumly is missing on sax, and I learn later from Stevie Simpson that he is now leading the Ronnie Scott's quartet and is not available for this tour. I hope he returns in the future, he is essential to the balance, both in sound and numbers on stage.

After about an hour the band dispersed and returned to the hotel. Chappo slipped on his black leather jacket and left alone carrying a 'Next' carrier bag. Not the image you expect from your superhero. But Chappo is very much like that. He is not how you imagine him to be, somewhat mellow, not at all manic or aggressive as his stage behaviour suggests. The first thing that strikes you is his quiet voice, the accent more London now than Leicester, and his initial shyness. When you look at him away from the stage it's hard to believe, despite the 30 years, that this is the same man that fronted Family. If you were to ask if he considered himself a Rock star, I guess he'd tell you he's just a man who loves his family and his music – he really is that unassuming and uncomplicated. He is obviously an intelligent man and surprisingly sensitive. His personality, character and outlook on life are clearly epitomised in his song writing. He is obviously strong willed and single-minded and certainly nobody's fool, hence his survival in the music business despite the rocky road he has travelled. Long may he continue to rise above it all. The great thing when you meet him, he doesn't disappoint, he is great company, always smiling and laughing, and very forthcoming when in conversation as I was to find out later.

The concert itself was brilliant. The stage at the Ryde Theatre was large and so Chappo had plenty of room to move about, unlike at The Brook. Someone had left a tambourine on his table, and during the opening song 'Kiss My Soul', he picked it up, shook his head disapprovingly, but played it nonetheless to great applause. It lasted two songs before it was smashed and hurled into the crowd. Great stuff! It was then back to the skulls and drumstick.

The concert went on, a collection of songs from Kiss My Soul and A Turn Unstoned?, combined with old songs – Prisoner (brilliant), Slap Bang, Walking The Cat, Jesus and the Devil (great live), Midnite Child, Who Pulled the Night Down, Son of Red Moon, plus all the Family favourites. Sadly, some of my old favourites Higher Ground, Unknown Soldier, Someone Else's Clothes, House Behind The Sun, Making The Same Mistakes, UNO and Dance Hall Years have long slipped from the repertoire. I'm not complaining, its just that twenty years (1977 to 1997) dragged by without me seeing him as I actually thought he had jacked it all in after the Chappo album. I was totally unaware that he was in Germany strutting his stuff until I discovered Walking the Cat and Live in Berlin in 1989. However, I was slightly taken aback when the last three songs listed were omitted from Anthology!

For nearly two and half hours Chappo gave us his best, and the audience loved it. The atmosphere was tremendous, and the 'islanders' appreciated every minute of it. Some people in front of the stage took photos whilst a hundred or so danced directly behind them, several imitating the man they were watching. Even one elderly lady was taken for a dance in her wheel chair! Those at the back and at the bar stood and admired. In the balcony was Mark King of Level 42 fame. When Chappo left the stage at 11.20pm there was still no Shadow On The Wall nor The Shortlist, he's bound to come back I thought, but alas not. Chappo, dripping in sweat, had given his all - he was totally exhausted.

It was a great gig. Certainly everyone afterwards was full of praise, no-one had a bad word to say. The word on everyone's lips was brilliant and excellent. The only criticism was directed at those who had stayed away - the same old story. As Peter said in his after concert speech when he thanked everyone for their support, "where can you get entertainment like this for a tenner?"

The Isle of Wight certainly rocked in the Solent this night! Of all the Family, 'Walkers and Chappo concerts I've seen, this was on a par with the very best.

Afterwards I volunteered to help Ray and Hughie pack the gear into the van, you wouldn't believe the amount of gear the band have or the weight of some of it. But to me it wasn't work, just a thrill of feeling part of it all.

At nearly 1.00am we arrived at Peter's Bistro where the band were in a corner eating lasagne, scampi, salad and chips and drinking bottles of red wine. The rest of the place was filled with Peter's friends who were all talking about the concert and the evening.

I sat down with Ray and Hughie to eat some splendid nosh and drink a most welcome pint. It wasn't long before Stevie Simpson, Ian Gibbon and Twiggy joined us. We sat and chatted, joked and laughed - its difficult not to when Twiggy's around – and drank. I was surprised to learn how far apart everyone lives - Rog and Stevie in London, Ian in Southend, Twiggy in Oxford, Helen in Dorset and John and Laurie the Midlands. Peter's wife, Hilary, a lovely attractive lady joined us, as too did Chappo. He sat down and expressed how much he had enjoyed the concert and we all sat and chatted whilst he autographed my Brook photo and Anthology CD cover. Others then came over seeking his autograph. He looked at ease chatting to everyone and answering questions. As he left our table to mingle with the others, he looked down at me, smiled, and put his hand on my shoulder. "Enjoying yourself?" "I certainly am" I responded. "Me too". It was a warm and sincere gesture.

And so the evening continued until we departed at around 3.30am when we all offered our thanks and bid farewell to Peter, his family and friends. During the short journey back to the hotel in the cruiser Stevie Simpson began a limerick 'There was a young lady from Ryde, Who swallowed a condom and died' and the rest of us tried to finish it amongst great hilarity. When we reached the hotel I climbed the stairs with Chappo, unlocked my room door, turned and thanked him for a great night. 'You're welcome' he replied, and closed his door for a well earned rest.

The next morning I was up and about at 9.00am, feeling the worst for wear, and to my surprise found all the band members, except Roger, and the road crew at breakfast. Roger had arranged for Peter to collect them all at 10.30am and here they were tucking into their cereals and full English breakfasts. All looked a lot better than I felt that's for sure. Well, I had another hovercraft trip to make and Christmas shopping to do in Exeter, they another four gigs in Bilston, Tynemouth and Leicester. I bade them all farewell, thanked them for their hospitality and friendship, and wished them all a very happy Christmas - they certainly had got mine off to a fine start.

As I strolled down towards the Hovercraft the sun was shining, the sky a bright blue and the sea calm, this was obviously the lull after last nights storm - and RMC and the Shortlist certainly took the island by storm last night.

On my return to Paignton I immediately phoned Peter to thank him for a great evening, it was an experience I will never forget, a thrill of a lifetime. As Michael, who works for Peter, said to me "This has been the best day of my life" - I couldn't argue with that.

Hopefully, I'll meet up with Peter to see the band again somewhere, sometime during 1999. It might be the same old Rock 'n' Roll, but when it comes to Roger Chapman and The Shortlist, you can see I believe. Great band, wonderful friendly people. Thanks to you all for allowing me this opportunity to stand on the 'Outside Looking In'.

Many thanks to Andy for this excellent contribution